By Michelle Bruton
The 99 skiers and snowboarders who make up this year's 224-member U.S. Olympic team hail from all around the country. Some come from the Northeast and Midwest; many are from California.
But the largest contingent comes from Colorado, where the presence of Copper Mountain, which houses one of the state's three 22-foot halfpipes and a competition-sized slopestyle course, has served as a training hub for some of the nation's best freestyle skiers and snowboarders, like Olympians Red Gerard and Chris Corning.
The resort's U.S. Ski Team Speed Center and Alpine Tech Center, meanwhile, has helped Olympians like Mikaela Shiffrin and Ryan Cochran-Siegle sharpen their racing skills.
Copper Mountain also offers what only one other resort—Park City, Utah—can boast: access to Woodward high-performance training indoor and outdoor venues. Woodward's indoor trampolines, foam pits and proprietary training tools at its Action Sports Barn allow athletes to dial in their uber-precise spin and flip tricks safely before they take them to snow.
When they're ready to try their runs on the mountain, athletes have access to some of the country's only Olympic-regulation superpipes and slopestyle courses at Copper Mountain and Park City.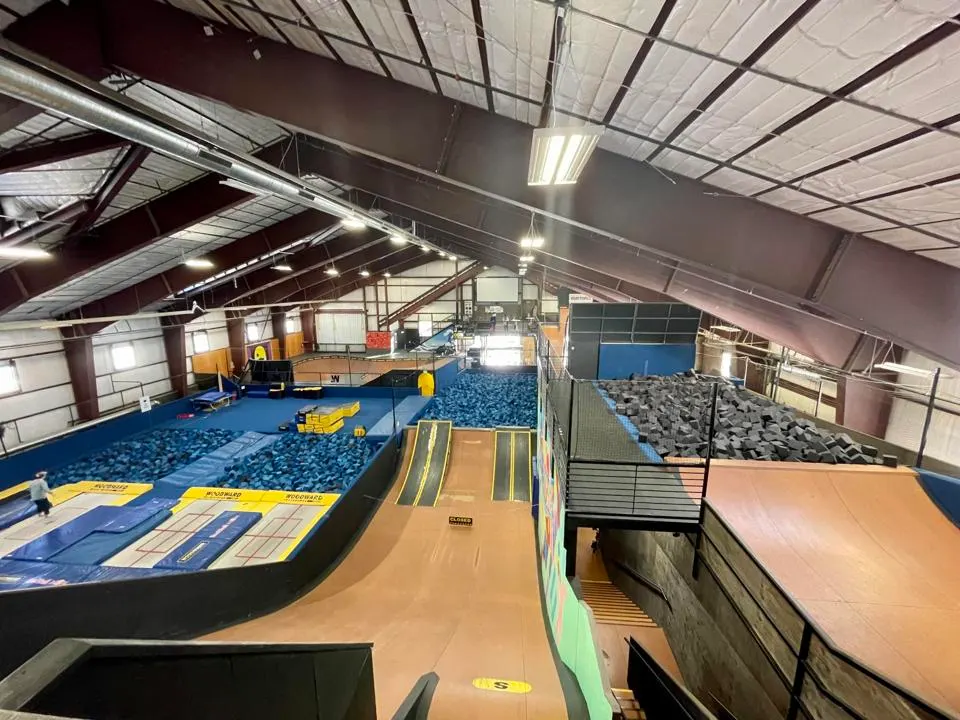 Athletes follow snow around the globe throughout the year, spending the winters in Colorado or Utah, traveling to Saas-Fee, Switzerland, in October and heading down to New Zealand or Australia in the summer.
And it's not just Americans who consider Colorado and Utah training hubs; skiers and snowboarders from Europe and the Southern Hemisphere make the trek every year to train at these resorts, as well.
On Thursday, however, U.S. Ski and Snowboard, the national governing body (NGB) of ski and snowboard sports in the United States, made the mutually beneficial relationship an official partnership, announcing that Woodward Copper and Woodward Park City will serve as official training centers for U.S. Ski & Snowboard athletes through January 2025.
The partnership will provide U.S. athletes new tools and venues to progress through the next four-year cycle in preparation for the Milano Cortina 2026 Winter Olympics.
"We're thrilled to partner with Woodward to elevate our freeski and snowboard athletes' training," said U.S. Ski & Snowboard Freestyle, Freeski and Snowboard Director Jeremy Forster. "Woodward's facilities at Copper Mountain and in Park City will provide key year-round training for our Pro and Rookie Team athletes for years to come."
The terrain parks at Copper Mountain range from extra small easy features to extra large for advanced riders and professionals. The resort also recently debuted two airbag training zones for elite-level halfpipe and big air athletes, as those disciplines see wild progression in competition.
This year's Olympics will, in all likelihood, see male halfpipe snowboarders landing triple corks (Japan's Ayumu Hirano did it in the Copper superpipe at Dew Tour in December); the first triple cork by a woman in snowboard big air if Austria's Anna Gasser can land it in competition for the first time; male big air snowboarders throwing around quad corks, as Marcus Kleveland has done; and freestyle skiers upping the degree of their rotations to a mind-boggling 2160, with Alex Hall landing a double 2160 for the first time in competition at X Games Aspen in January.
There are very few resorts in the U.S. that can accommodate athletes training for those kinds of tricks. It gives nations like Canada and countries in Europe an advantage in international competition, especially when many nations outside the U.S. have state-sponsored training centers and fund their national teams at the federal level.
That's why private companies like Copper Mountain have become so crucial to pro athletes' training.
"I've noticed in recent years other resorts scaling back on their terrain parks or having less priority on getting a park open in the early parts of the season, whereas Copper Mountain has been doing the opposite; expanding their parks, opening with a terrain park, and creating features of a wide variety for all types of skill levels," says Woodward snowboard coach Rob Berlin, an AASI-fully certified instructor who teaches lessons at Copper Mountain.
In Copper's case, these types of high-level parks are part of their brand, especially with Woodward and the focus on freestyle progression; they fit nicely with the resort's other U.S. Ski Team initiatives, explains Adrienne Saia Isaac, director of marketing and communications for the National Ski Areas Association (NSAA).
Copper has the operational infrastructure to build and maintain these terrain parks, as well as population of high-level athletes—professional and amateur—who can successfully use terrain parks of that magnitude.
This model works for Copper, and for other ski areas like Mammoth and Aspen Snowmass, but 22-foot superpipes and slopestyle courses don't necessarily fit into every ski area's business model.
But when it comes to offering athletes who compete or aspire to compete at a high level a place to dial in their tricks, there are only a handful of places in the U.S. they can access these features.
Even Woodward Park City's halfpipe—while a 22-foot superpipe—isn't technically an Olympic-sized halfpipe; it's shorter.
"It takes a lot of resources to build and maintain a superpipe, but it also takes a lot of talent," Noah Schwander, director of Woodward at Copper, told me. "That talent is just shrinking. There's not very many people out there that can really do it well."
Snow Park Technologies (SPT), the world's leading consulting team for terrain parks, helps maintain the superpipe at Copper Mountain. It has built more than 250 competition courses, including for X Games (domestically and abroad), the Burton U.S. Open and Winter Dew Tour.
Schwander estimates that, in the world, there are less than eight people who have the skill set to build and maintain a 22-foot halfpipe. "You can't really learn it from a lot of people; it's a very small trade," he said.
Depending on snow conditions and other factors year to year, there are approximately seven 22-foot halfpipes in the U.S.—the four Olympic-sized superpipes at Copper, Mammoth Mountain, Snowmass and Buttermilk, as well as the shorter superpipes at Woodward Park City and Seven Springs in Pennsylvania.
To invest the resources in building and maintaining features like a 22-foot halfpipe, resorts need to see a payout in return—largely, publicity and hosting world-class events. After spending 11 years in Breckenridge, Dew Tour moved within Summit County to Copper Mountain for 2020 and 2021.
Dew Tour vice president and general manager Courtney Gresik cited Copper's experience hosting other world-class events like the U.S. Grand Prix and the USASA Nationals, as well as its shared commitment to investing in the next generation of action sports athletes, as benefits of the move.
"We feel the Dew Tour will take on new life at Copper, which has long been a preferred destination for elite action sports athletes," Gresik said at the time.
After his family relocated from Cleveland, Ohio, to Silverthorne, Colorado, to support his budding snowboarding career, Gerard was lucky enough to call a world-class resort his home mountain in Copper. He's progressed his slopestyle riding at the resort's terrain parks, winning a gold medal at the 2018 Pyeongchang Games and returning to the Olympics this year in Beijing.
Gerard even opened his own branded hike-to terrain park at the base of Copper Mountain. Red's Backyard, modeled after his own rails garden at home, opened in December 2019. It is free to access with a voucher and included in a season pass or day lift ticket.
Copper Mountain "truly is the Athlete's Mountain," Gerard said during Dew Tour in December. "You can come here any given day in December and January and see a pro snowboarder you're gonna watch in the Dew Tour."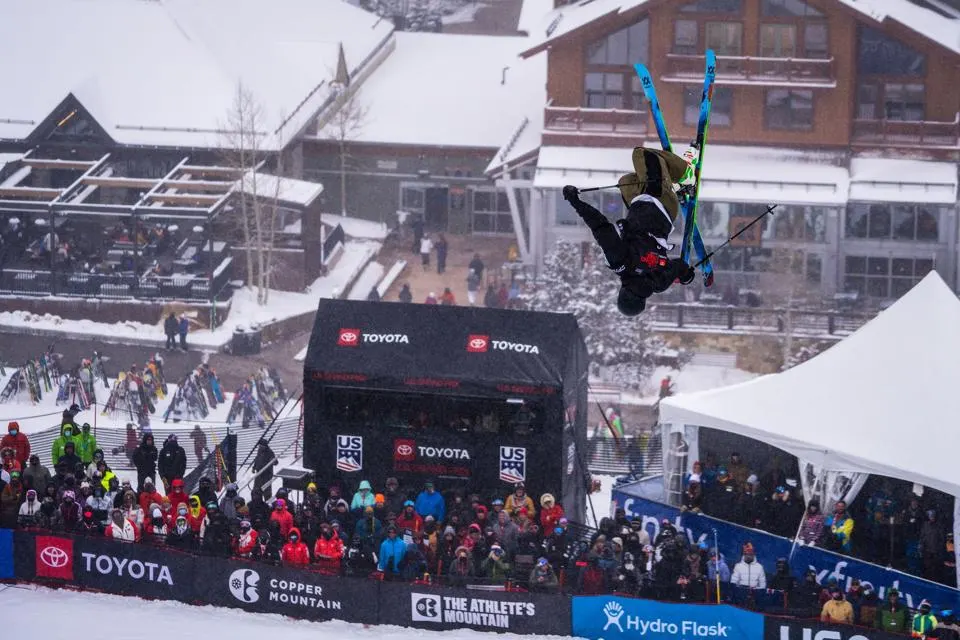 "For you to be able to experience the same place all the Olympians are actually training, there's not another sport you can really do that," Schwander said. "It's pretty unique to have the venue open and available to anybody, and it's something that you can actually make your way down through there even as a beginner."
"It's been amazing to see Woodward embrace progression and training areas indoors and on-mountain at both Copper and Woodward Park City," said Shaun White, a five-time Olympian. "I've spent a lot of time in the pipes at both places the past two seasons getting ready for the Olympics."
The majority of the U.S. Freeski Team hails from Colorado. Olympian Aaron Blunck, who competes in halfpipe, grew up in Crested Butte and got started early, as his grandfather ran a ski school. His home resort at Crested Butte used to have a halfpipe but no longer does.
"As with a lot of mountains, they're dwindling; it's expensive to build," Blunck said at Dew Tour. He points out that most of the Colorado freeski halfpipe athletes—a group that includes Alex Ferreira from Aspen, Birk Irving from Winter Park and Hanna Faulhaber from Basalt, all headed to the Beijing Games with Blunck—have been competing against one another since they were 10 to 12 years old, training at the same locations and coming up through the sport together.
"We're super fortunate to have places like Copper Mountain that has a great halfpipe and we could make our home stomping grounds for halfpipe riding," Blunck said. "It's the most central spot for skiing in all of Colorado in my eyes. We were all very fortunate to live close by and rip over here."
And while Copper Mountain and Woodward are preeminent training locations for the most elite athletes, the term "Athlete's Mountain" truly encompasses the whole spectrum of skiing and snowboarding, from someone's first time on snow to an Olympian. The resort is built so that athletes can progress their skills from beginner to intermediate to advanced all on one mountain.
"That's the bigger focus of what Woodward is as a whole is the progression, meeting the next generation, pushing the sport as a whole and pushing the kids to be the future," Schwander said. "It's no secret the ski industry has been flat for 30 years; it's not shrinking but it's not growing, either."
Team Burton youth slopestyle rider Brian Rice, 17, represents the next generation of pro snowboarding. He calls Copper Mountain home as he sets his sights on qualifying for the 2016 Winter Olympics, training alongside current Olympians in slopestyle Gerard and Chris Corning.
Woodward Copper and Copper Mountain are also training grounds for Team Summit, a youth development organization that offers training opportunities for young alpine skiers, freestyle skiers and snowboarders, with the nation's largest snowboard program.
With Adaptive Action Sports, founded in 2005 by Daniel Gale and his partner, three-time Paralympic snowboarder Amy Purdy, Copper Mountain has also become the home base for adaptive riders to progress.
In his new autobiography Driven to Ride, Paralympic snowboarder Mike Schultz, who will compete in the Beijing Paralympics in March, writes about how meeting Gale and Purdy changed his career when he transitioned from motocross and snowmobile racing to adaptive snowboarding after a snowmobile accident led to the amputation of his left leg above the knee.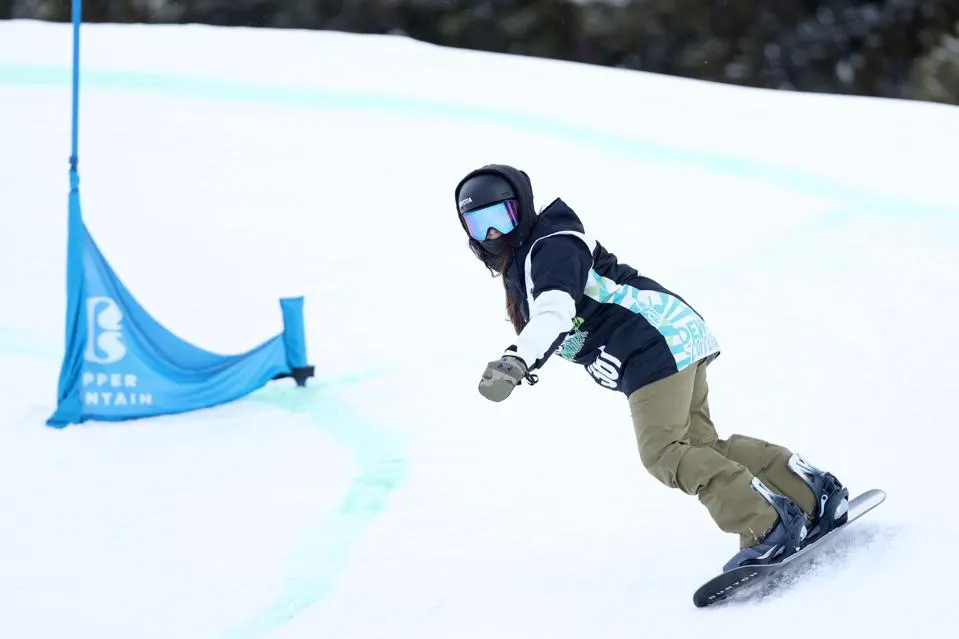 Team Burton adaptive snowboarder Kiana Clay, who lost use of her dominant arm in an accident, also took up the sport professionally after her accident and lives and trains near Copper Mountain. She met Schultz through motocross and he told her to reach out to Gale and Purdy with Adaptive Action Sports.
The team was on the ground at Copper Mountain in December supporting Clay at Dew Tour, where she took first place in the women's adaptive snowboard banked slalom final.
From beginners to Olympians and Paralympians, Copper Mountain's focus on progression—at the center of its $100 million mountain experience renovation and expansion—has allowed it to stand out as the preferred training hub among an already small group of premier U.S. resorts that can accommodate athletes from the lowest to highest level of skill.
"Our partnership with U.S. Ski & Snowboard is stronger than ever and we're proud to provide even more world-class training opportunities for their athletes," said Dustin Lyman, president and general manager of Copper Mountain. "For decades, we've looked forward to hosting U.S. Team athletes for training and competition each season. It is our privilege to expand this partnership, and the U.S. Ski & Snowboard Team is a big reason why we are considered the Athlete's Mountain."
Originally Published by Forbes Magazine